Hi, We're your midwives, Corina and Jessica.
We believe Midwifery, at its core, is being fully present, listening deeply, laughing joyously, and holding sacred a space for women in their journey to motherhood.
We are the only birth center midwives in Richmond that have graduated from schools that meet the Midwifery Education Accreditation Council and the International Confederation of Midwifery standards. We are certified by the National Association of Registered Midwives, and licensed by the Virginia Board of Medicine. We both have current CPR and NRP certification, and Corina has been certified in Advanced Life Support in Obstetrics for 10 years. Together we've midwifed' 100's of families!
Over the course of your whole birth journey, we'll spend an average of
30 hours together.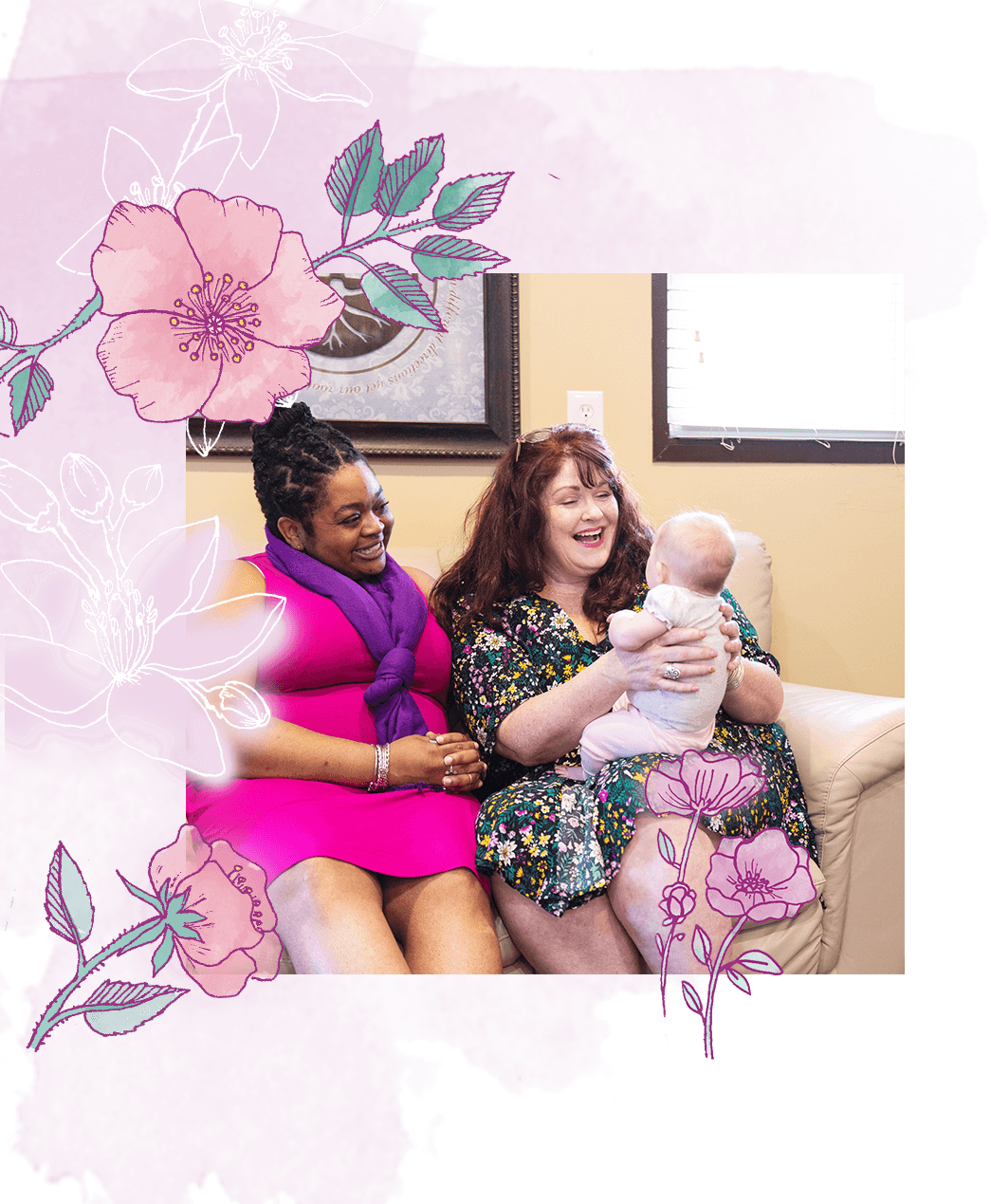 I'm the visionary, founder, clinical director and senior midwife at Embrace. I'm a bit famous for my big hair, big laughs and big hugs. A mama, a grandmama and a midwife, I want your experience at Embrace to be one of joy! 
This is Jessica in the pink! She's our staff midwife, and is energetic, funny and famous for keepin'-it-real. Active in her church, close to her family and bonded to her furbrother, Buddy, Jessica moved to Richmond from Chesapeake to join us! She loves everyone, and enjoys the diversity of Embrace's clients. 
We both would love to help with your home birth and can't wait to meet you in person to get to know you better!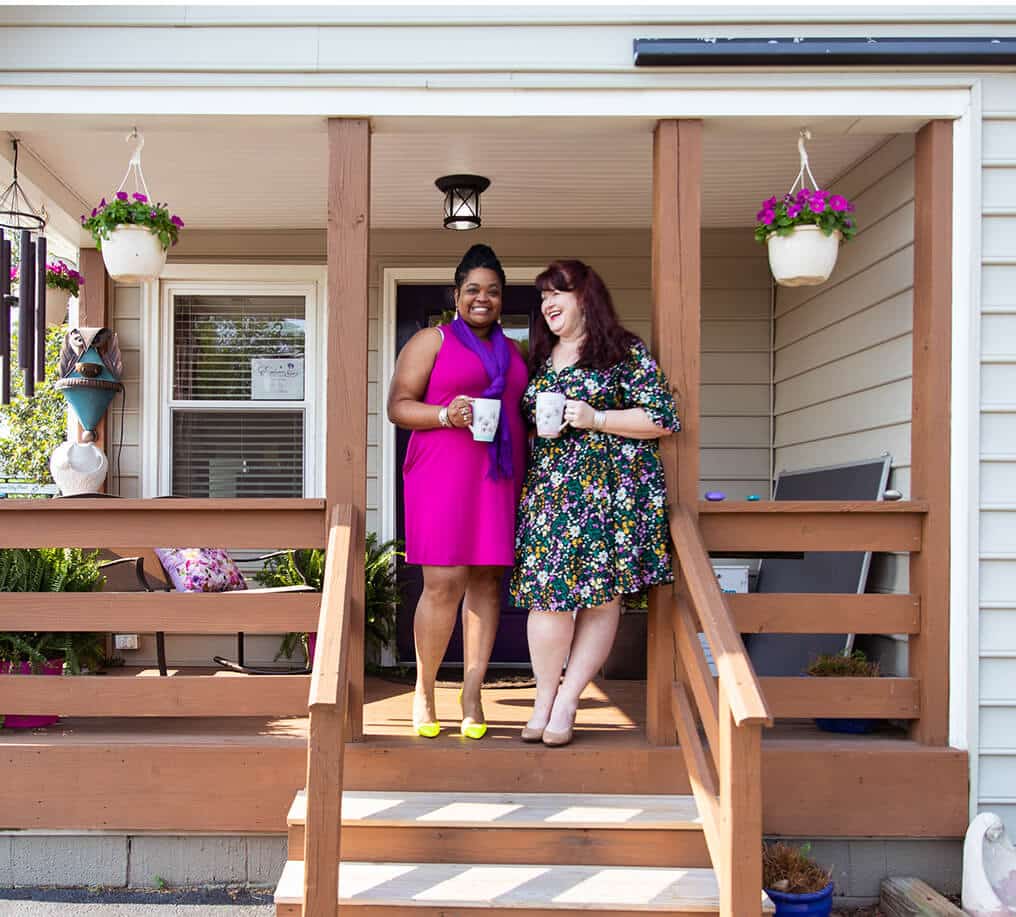 When You Choose Care with Us
Our global care fee includes prenatal, labor, birth, postpartum care and newborn assessment and care (up to 6 weeks of life for newborns).
HERE'S WHAT YOUR MIDWIFERY PACKAGE INCLUDES:
Certified, Licensed Midwife and RN Birth Assistant
Regular reviews of your food choices and supplements, with simple advice to adjust your diet and maximize your nutrition
Full prenatal care, including once monthly visits until 28 weeks, then twice weekly until 36 weeks and then weekly until birth. Visits will be done at our Birth Center, in one of our comfortable and friendly exam rooms. Long, leisurely visits at our birth center
​Labor and birth in one of our beautiful new birth suites
Newborn exam on the bed next to you a few hours after the natural birth, and well newborn care for the first 6 weeks of life, as well as breastfeeding support
Suturing, if needed, for 1st and 2nd degree tears
24 hour availability of a certified midwife for labor, birth or emergency situations
After the birth, care is still important. First postpartum visit at 24-72 hours will be done in your home. Additional office visits at 1 week, 2 weeks, 3-4 weeks and a final postpartum visit at 6-8 weeks after the birth.
E-mail and phone communication, as needed
We'll complete FMLA or other employment forms necessary for maternity leave
Ordering of the standard prenatal lab tests, and any needed or desired ultrasounds (We never require an ultrasound unless there is a medical concern)
All birth supplies included
A visit with our Certified Nurse Midwife
Complimentary early pregnancy classes, postpartum planning and care classes, newborn care classes & breastfeeding classes
Access to our well researched resource list
A copy of Mama Natural at your first visit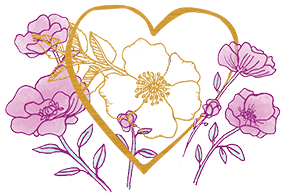 Families walk away from their experience with us feeling like they're part of the Embrace family!
We LOVE getting to know our families on a personal level and staying in touch with how their beautiful babies are growing up!
We have a birth tree mural
in our waiting room with the name of every baby that has joined the Embrace family to honor the beautiful relationships we form. When you birth with us you are always remembered and celebrated!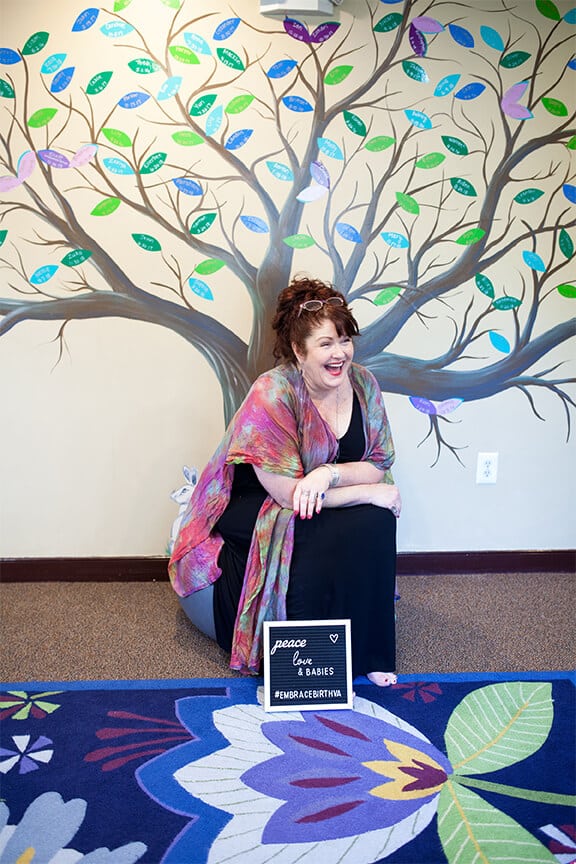 We do things a bit differently at Embrace.
When you choose care with us, you enjoy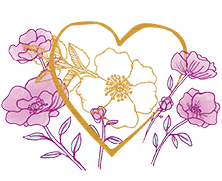 Friendly, personal appointments with a midwife who listens deeply to your questions, concerns, and joys.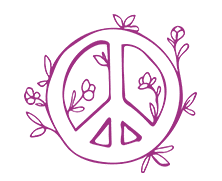 Evidence based care – being informed of all your options, and having your choices honored.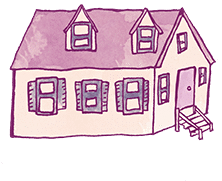 Having your midwife visit you and your new baby in your own home at 24-48 hours after the birth.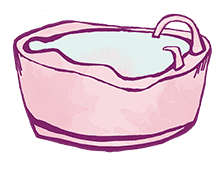 Natural comfort measures – dim lighting, birth swings, aromatherapy, music, water labor and/or birth.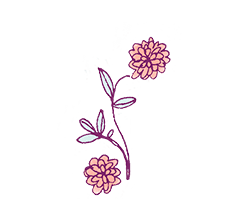 Eating and drinking in labor- anything that sounds good!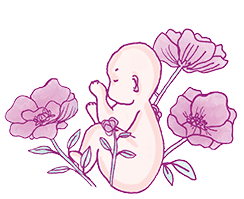 Welcoming your baby skin to skin, delayed cord clamping and breastfeeding as soon as you and your new baby are ready.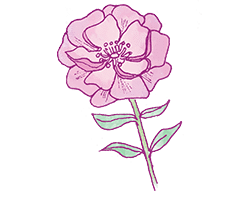 A full 6 weeks of postpartum and newborn care and support.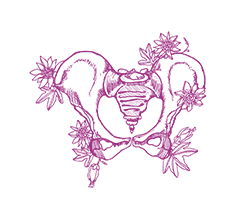 Safe, gentle, supportive care my midwives you know and trust.
Comprehensive Care
As primary care providers licensed by the Board of Medicine, we provide all the clinical care, including ordering labs and ultrasounds, just like any provider. Our time and level of care goes far beyond the alternatives and leaves you feeling 100% supported and prepared. Whether you're a first time mom feeling anxious about what to expect or an experienced mom who has forgotten what it is like to be looked after, Embrace is for you.

15 HOURS OF CARE
for the average client. We offer luxurious hour long appointments and empower you with evidence based information.
12-18 HOURS OF CARE
We want your baby to have the best entry to the world and for you to have a positive birth experience!
10 HOURS OF CARE
Our families LOVE our generous 6-weeks of postpartum care. Each appointment is like a visit with a friend who makes sure you and your newborn are thriving physically and mentally.
Preconception and Prenatal Care
Hour-long , family-friendly appointments full of education, support and encouragement.
More and more people are really planning for their pregnancy, starting with a very conscious conception. We offer preconception planning! PAPs, labs and breast exams, if needed, but it's so much more that. Our midwives will walk you through healthy nutrition, supplements, exercise and lifestyle changes to be sure you are ready to conceive the healthiest baby possible!
Once you conceive, you already know your midwife! We'll schedule a 2 hour visit to get your care started, and then see you for hour long visits after that.
This is a very different from the average doctor who schedules on the 10-15-minute mark and expects to spend five to seven minutes with the average patient. We've never had a 10-minute appointment. Every appointment is scheduled for an hour so we can nurture new parents through the fears, hopes, and questions of pregnancy. You have your own team of cheerleaders, as excited to meet your new baby as you are! We are licensed by the board of medicine and can order labs and imaging just like any other provider.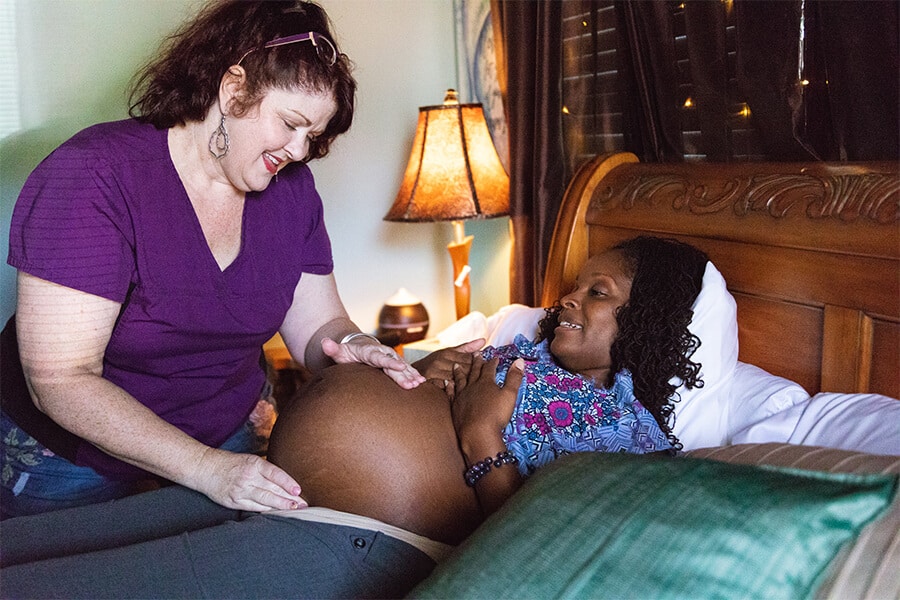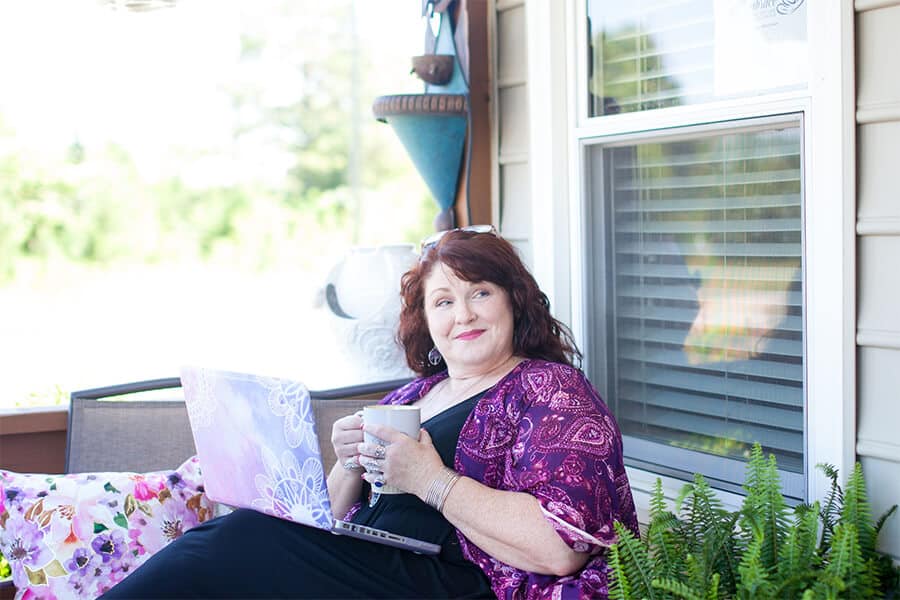 Informed Choice
Informed "consent" implies you will say yes! Informed CHOICE means just that…you get to choose. Our job is to provide great, evidence based information without bias. We've created binders with current information so you have up-to-date resources to read and research in the comfort of your own home.
At your next appointment, we will happily discuss and help you decide what is right for your body and your baby. This is how we create your birth plan — which means in labor, you don't have to "fight" for anything. You never have to defend your decisions. We know what you want going into your birth and short of an emergency, we're going to stick to your birth plan.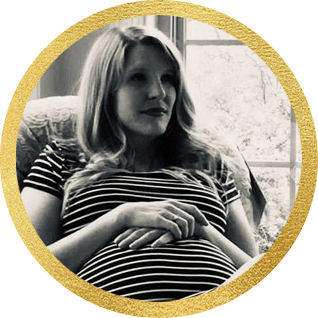 "Even my skeptical husband said afterwards how much better it was than our first hospital birth."
"I had such a wonderful experience at Embrace from prenatal care to the beautiful birth of my son to postpartum. I always felt my choices were heard and followed, and looked forward to appts which were like visiting friends! I got to have both Jessica and Corina at my birth, and even my skeptical husband said afterward how much better it was than our first hospital birth. We love you guys soo much! Also shoutout to Corina for flipping my randomly breech babe at 37 wks and saving me from a c-section, to Dalyce for watching my sassy 5 year old and Jessica for making me crack up at literally every appt."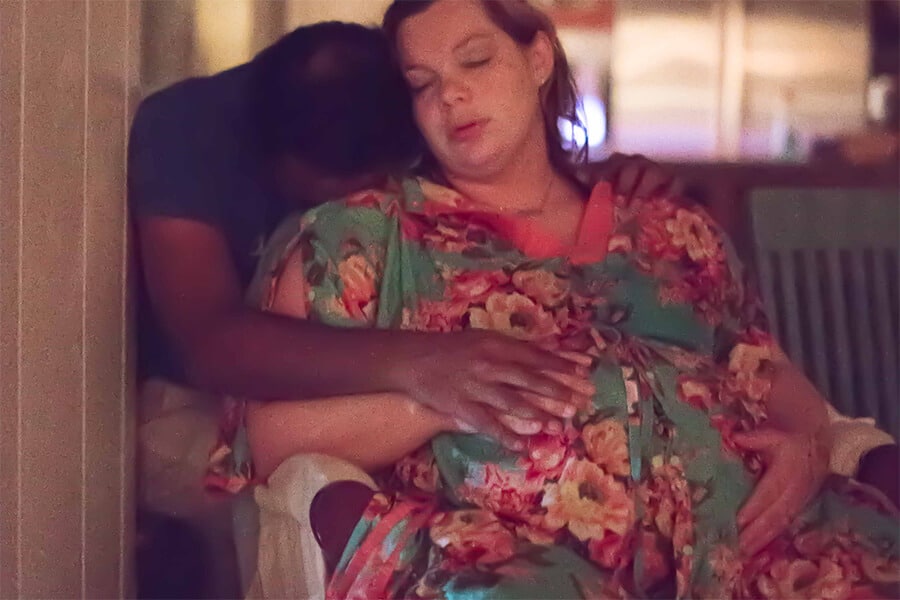 When you call, we're ready!
Our licensed, certified midwives are on call every hour of every day, every day of the year. When you call, we're ready. If you have hired a doula, she will come offer support you as soon as you need and we will all stay in contact until active labor starts. It's your Baby's Birthday, and we are all excited for you! You will soon either be on your way to the birth center, or we will be on our way to you!
Low cesarean rate
The world health organization believes that the cesarean rate should be 10-15%, but America's average is 37% right now. Our cesarean rate is 6-8%. We are not anti-Cesarean. If your body or your baby need a Cesarean birth, we will be thankful it's available. We have great relationships with local doctors and hospitals, and can arrange a smooth transfer, if needed.
Unfortunately in America, Cesareans are used too often, and for too many things that support and patience could have solved. Hospital birth can often create a "cascade of interventions", and often that starts when you walk in the door. Fear, painful vaginal exams, IVs, strangers in your room…these all can shut down the process of natural birth.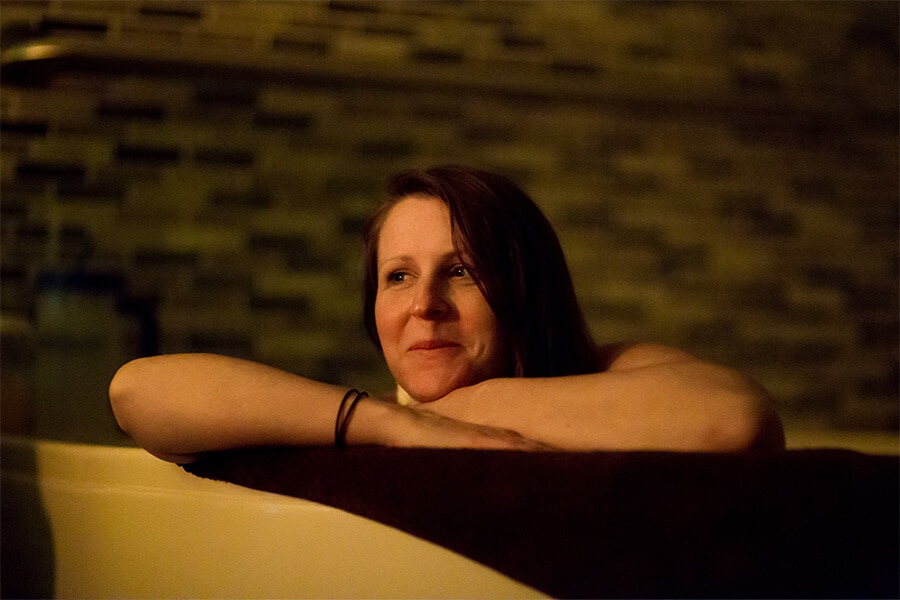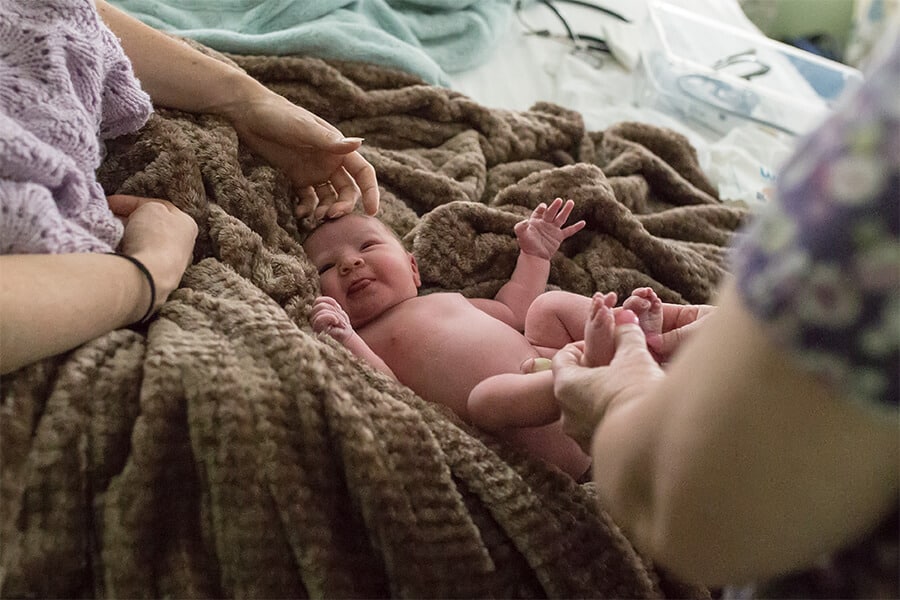 A gentler, more patient approach
Forget what you have seen in the movies! When you are in labor, we will set up your comfy birth suite. We will diffuse some oils, if you have chosen, and we will dim the lights. If you are in active labor, we often start the tub before you arrive.
You'll be greeted with a smile, and encouraged to settle in. We will get your vitals and your baby's heart tones when you are ready, and we will continue to monitor you and your baby quietly and gently throughout labor.
When it's time to push, we will help you find your own rhythm. Pushing should not be like an Olympic sport! Gentle pushing allows your perineum to stretch, minimizing tearing, and allows your baby to be well oxygenated, minimizing any fetal distress. We love the more patient, gentle approach to easing your baby into your arms.
After the birth, we know you just want to love and explore your new baby. We protect your golden hour! We will make sure you have tea and a bite to eat, but we love to wait a few hours before we do the newborn exam — even though we do it on the bed next to you!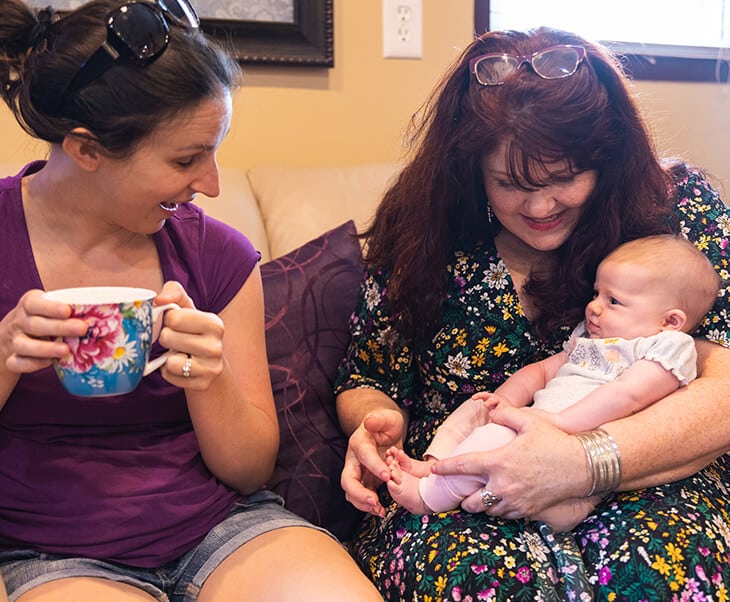 The most comprehensive postnatal care
Many people don't realize midwives offer complete care to both mothers and babies for 6 weeks. Hospitals discharge new families, and tell them to follow up with their OB and pediatrician at 6-8 weeks. New babies and newly made mothers deserve so much more support than that!
We visit you and your baby in your home at 1-2 days after birth, then we see you back in the office at 1 week, 2 weeks, 3-4 weeks, and 6-8 weeks. We check your baby's weight, reflexes and development, discuss sleeping and nursing patterns, answer all those newborn questions that come up once you go home. This new little person doesn't come with a Manual!
We check in with you, emotionally and physically. Your breasts are making milk, your uterus is shrinking, your perineum is healing, and you are transitioning to parenting this new babe. Baby blues, depression, lack of sleep, lack of support…we care about all the changes your may be experiencing. We want to make sure you are thriving. If you need birth control, we can help with that too! Any birth control method you chose is available with our CNM at your 8 week appointment!
Post-natal appointments families love to attend
Ironically, statistics say that over 60% of women never attend their 6 week visit with their OB. It makes sense, many people don't want to sit in a waiting room for 2 hours only to be called back for a 5-minute visit. With us, things are so different! 100% of our clients choose to come to their postpartum appointments. With us, you are seen, you are heard, we coo and we awww and we snuggle and we support. We share in the joy and struggles of having a new baby. It is a JOYFUL visit. We'll make you a cup of tea or bring you a glass of water. You can sit back in a comfy chair with your feet up. You are IMMEDIATELY cared for.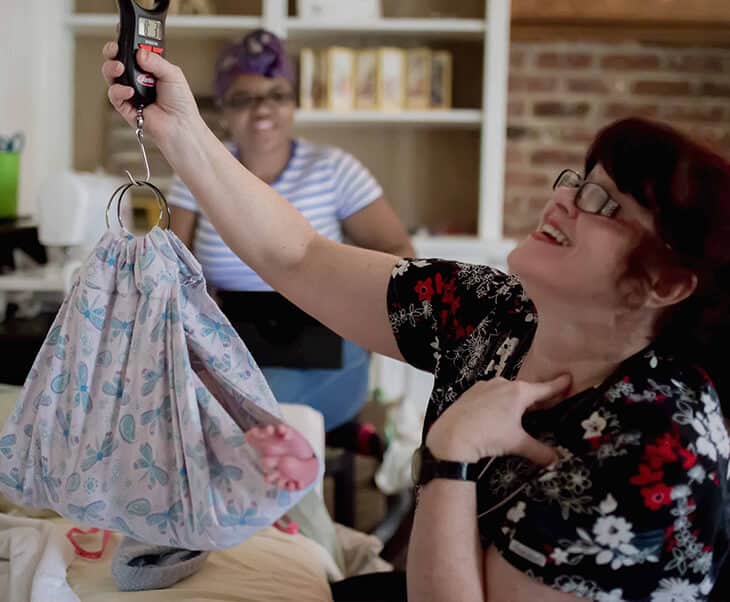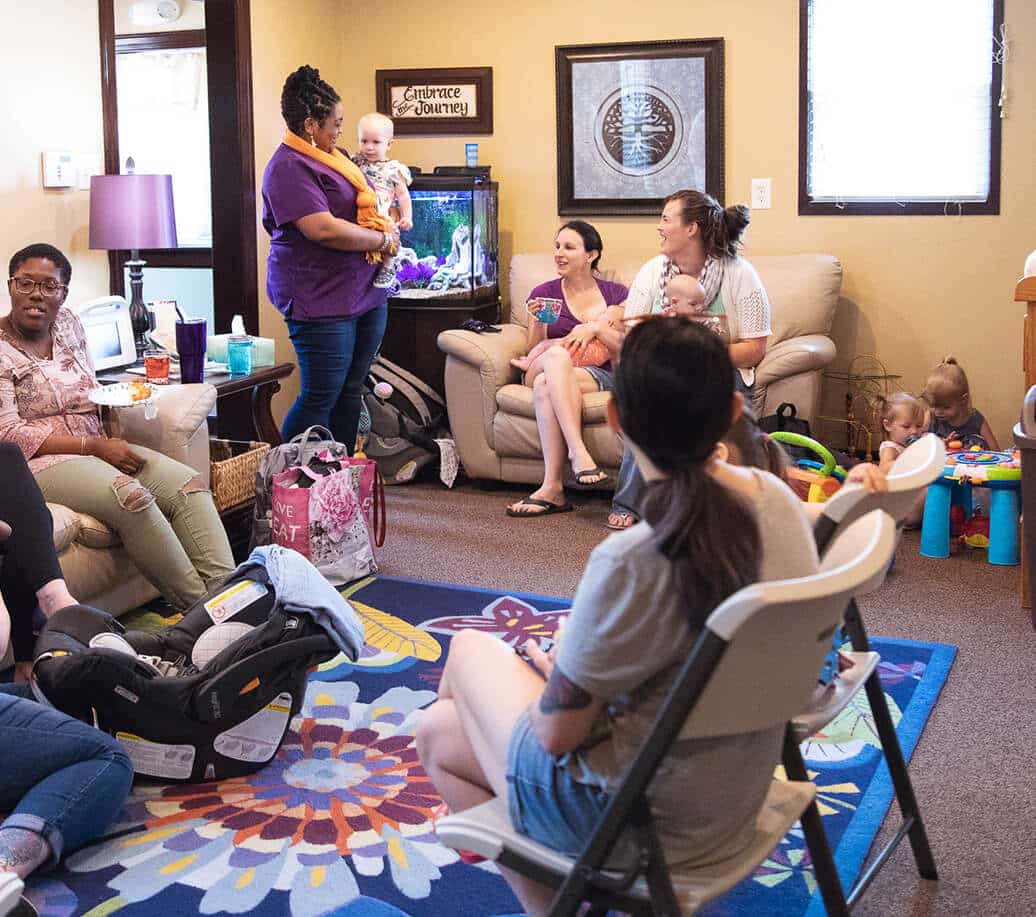 Tours are every Wednesday at 1pm and every Saturday at 10am.
We encourage you to RSVP your space!
Come explore our two luxury birth suites and meet Corina and the Embrace family.
Your other birth options with Embrace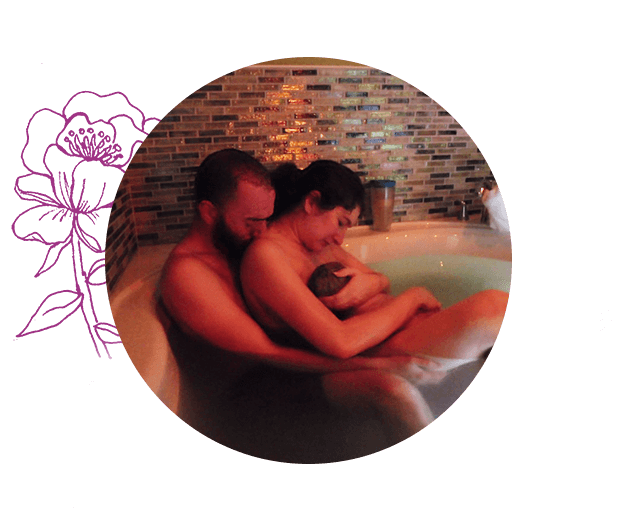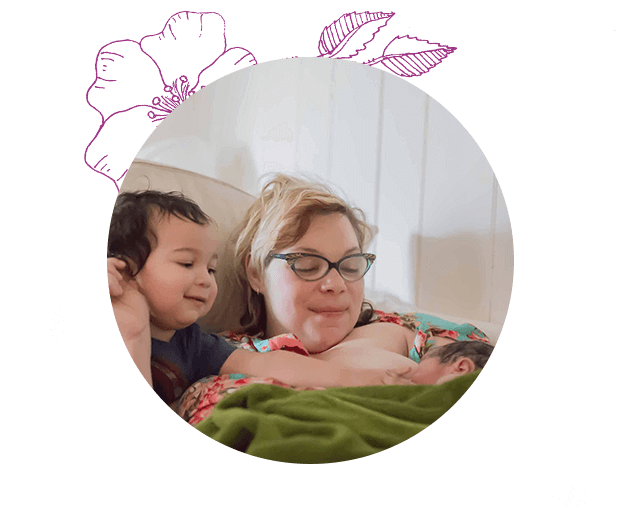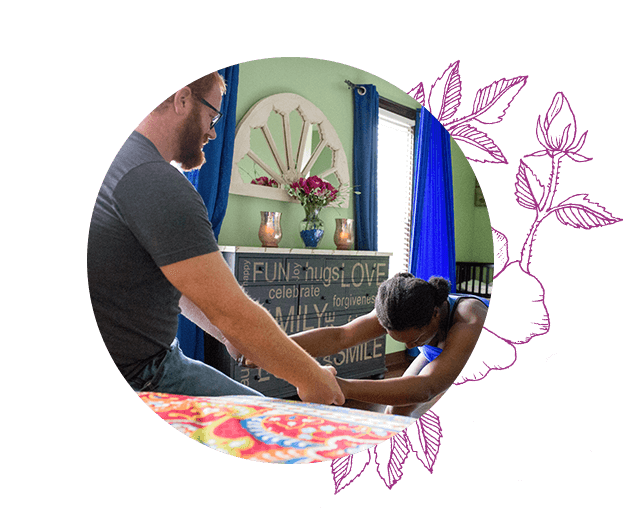 I want to give birth at a luxury birth center!